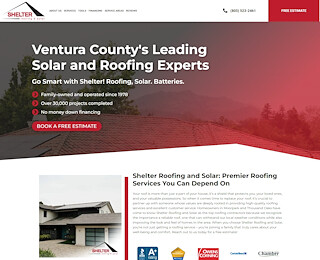 Contact Shelter Roofing and Solar today for an experienced roof contractor in Moorpark. Shelter Roofing and Solar is a full-service roofing contractor, and we can work with any kind of roofing system that your home may have – and we mean any!
Whether your roof has been damaged due to a storm, a falling tree limb, man-made causes, or if your roof is just old and needs to be repaired or replaced, you can count on Roofing Shelter and Solar to provide you with a fast assessment and an accurate bid. We know you don't like surprise expenses and hidden fees, so what we quote for your job is what you will pay – never a dime more!
Should I Do My Own Roof Repair if I Can't Find a Roof Contractor?
Although a lot of people opt to fix or install their own roofs or pay a neighborhood handyman to do it for them at a fraction of the price that it would cost for a quality roof contractor in Moorpark; there is ample reason why hiring a roof contractor is the right decision! For faster, safer, better, and lower-cost roofing services, contact Shelter Roofing and Solar.
Fixing or Installing a Roof is Dangerous
When we think about dangerous roofs, we think about high elevations and steep pitches. However, a flat 15′ roof can be just as dangerous, in part, because workers tend to feel more comfortable and become too relaxed on these kinds of roofs. We're guessing that you don't want someone else's life or blood on your hands, and it's scary to think about what could happen up there when the person (or people) working on your roof are not licensed or qualified to do so. Just as importantly, if your neighborhood handyman gets injured while working on your roof, you're going to be liable!
When you hire Shelter Roofing and Solar to be your roof contractor in Moorpark, you don't have to worry about this! Whether your roof is flat or sloped, 15 ft. or 65 ft., we have the experience, the expertise, the tools, and the equipment to keep ourselves safe on the job at all times, and safety is our number one priority. Further, when you hire Shelter Roofing and Solar, we are the ones who will be liable in the event of an accident, not you!
Save Yourself Money by Hiring a Professional Roofing Contractor
Although it may seem intuitive that you'll save money by doing it yourself or hiring your local handyman to do it himself, the exact opposite is true! There are actually a number of ways in which Shelter Roofing and Solar can save you money now and in the long-run. First, our professional roofing contractors in Moorpark have the experience it takes to get the job done efficiently and quickly. Indeed, you'll save money and time (time is money) by getting the job done right the first time. Further, with 40 years in the roofing business, Shelter Roofing and Solar can provide you with the lowest prices on materials, and all of our labor is backed by a 100% warranty.
Shelter Roofing and Solar
805-523-2461
4829 Mira Sol Dr
Moorpark
CA
93021
US